Before you start syncing Trello cards with Board Sync or Unito's web app, here are a few tips and tricks that might help you out.
In this article:
Unito's Trello integration can be accessed directly from your board through our Board Sync power-up or from our web app. However you choose to sync cards, automating with Unito is the best way to work faster, smarter, and spend more time focusing on high priority tasks, rather than manual data entry.
Start with a clear plan
Before setting up any Trello integrations with Unito, take some time to think about what you're trying to accomplish. What boards do you want to sync and why? Do you want to sync all lists within that board? Or only some? Which cards do you really need shared with other boards or projects in different tools?
Here's a guide to managing notifications in Trello.
Set conditions in your rules to filter specific Trello cards
Filtering by field
You have the option to selectively sync cards based on fields, including custom fields. This can be a powerful way to maintain control over which cards and information are shared across your boards.
Made a mistake with your rules? Here's how to undo rule errors in Unito.
For example, you might choose to sync only cards that are tagged with a specific label, rather than syncing all cards on a board. In the example below, only Trello cards with blue or green labels will sync.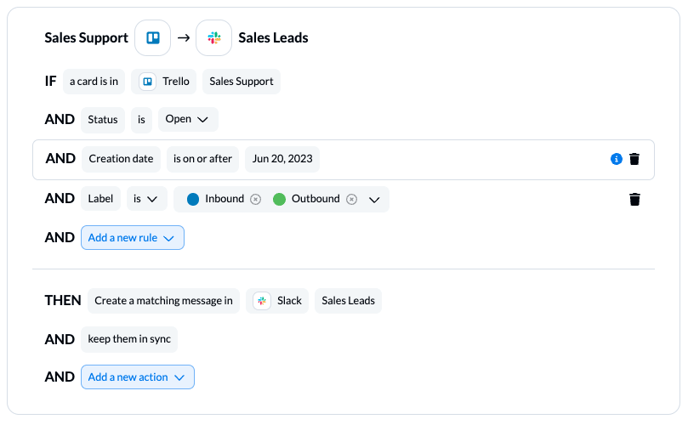 Filtering your Trello cards with rules in Unito can help you avoid cluttering your connected boards with irrelevant information.
Filtering by list
OK, but what if you only want to sync Trello cards from 1 or 2 lists in your board? No problem! You can simply add a rule to Unito identifying the lists you want synced.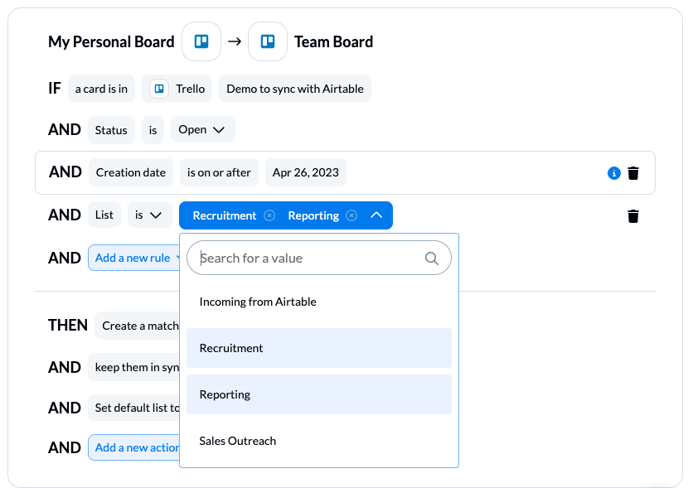 In the above example, any cards in either of the lists selected above will sync to the destination. The cards from those 2 lists will all sync into a single list (or equivalent in another tool) in the destination project, board, or other block of work.
Connecting Trello to a different tool? Here's a guide to customizing how Trello lists sync with other tools.
How do I sync cards from one board to multiple project boards?
Do you have your cards synced to a master board, but you'd like to then delegate them out to several other boards? One solution we recommend is a Trello hub board. It's a workflow you can create in Unito to first sync cards from your boards to the hub board with a one-way flow direction. Then, you create additional flows to send cards from the hub board to the relevant destination(s).
Do I need every Trello Power-Up to add other tools?
No! If you want to set up a Unito flow with Trello, you only need Board Sync (if you prefer working in Trello directly) or you can create flows directly through Unito.
Mirror: This Power-Up is best for quickly syncing individual Trello cards one at a time. Learn more about how Mirror works here. And here's a more comprehensive troubleshooting guide for Mirror if you need help.

Board Sync: If you prefer syncing work directly in Trello, you can create Unito flows with Board Sync. This Power-Up is best for syncing multiple Trello cards to or from multiple boards.

Export & Sync: This Power-Up is best for quickly populating a spreadsheet with data from Trello in just a few clicks. Here's a guide to help you get started.
Aside from these, our other Power-Ups offer the same functionality as Board Sync.