Find out what Unito is, what it does, and everything else you need to get started.
What is Unito?
Unito is a workflow management platform that allows you to integrate the project management tools you're already using. It creates bridges between tools that don't work too well together out of the box so that nobody has to give up a tool they love.
Because Unito builds two-way relationships between tools, information from one tool can be seamlessly synced to another and vice-versa. Trello cards can become Asana tasks, Jira issues can be synced to GitHub, and more.
Many of our integrations cover almost every field for the tools you're already using, so you get more than just a one-way window into a task from another tool. You get full-featured synchronization between your tools.
A quick tour of the Unito app
How does Unito work?
Unito uses flows to connect your work management tools. A flow sends information from one tool to the other, and it can be customized with rules and mappings, allowing you to control what information gets synced and how it happens.
Creating your first flow is simple, and you can do it in just a few clicks.
Connect your tools.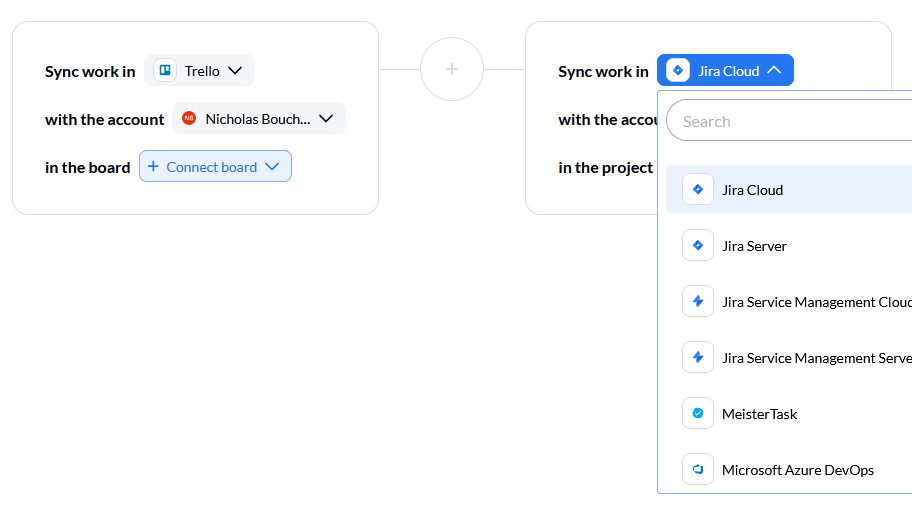 Choose the projects you need to sync.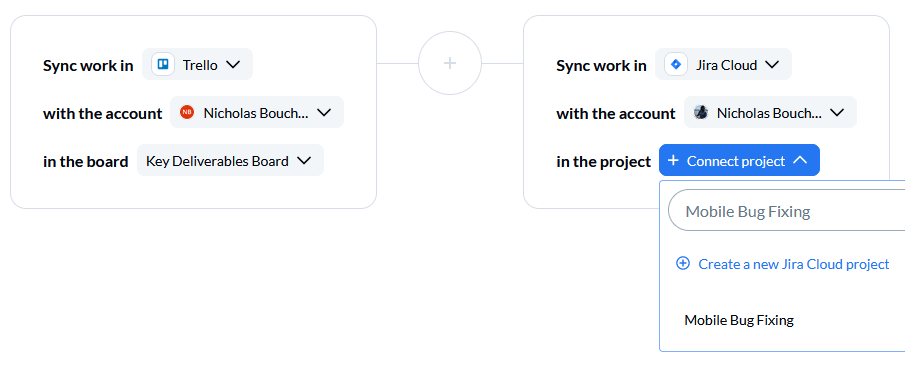 Set up your rules.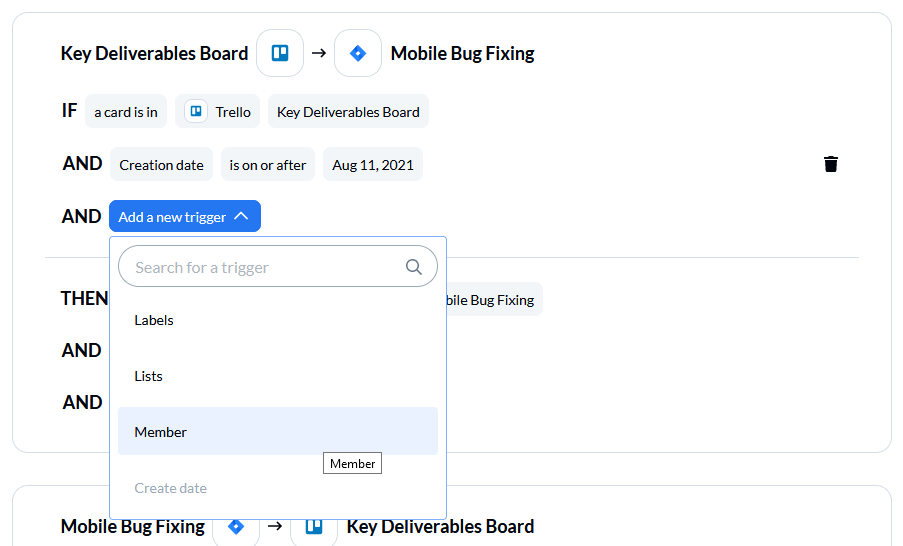 Review your field mappings.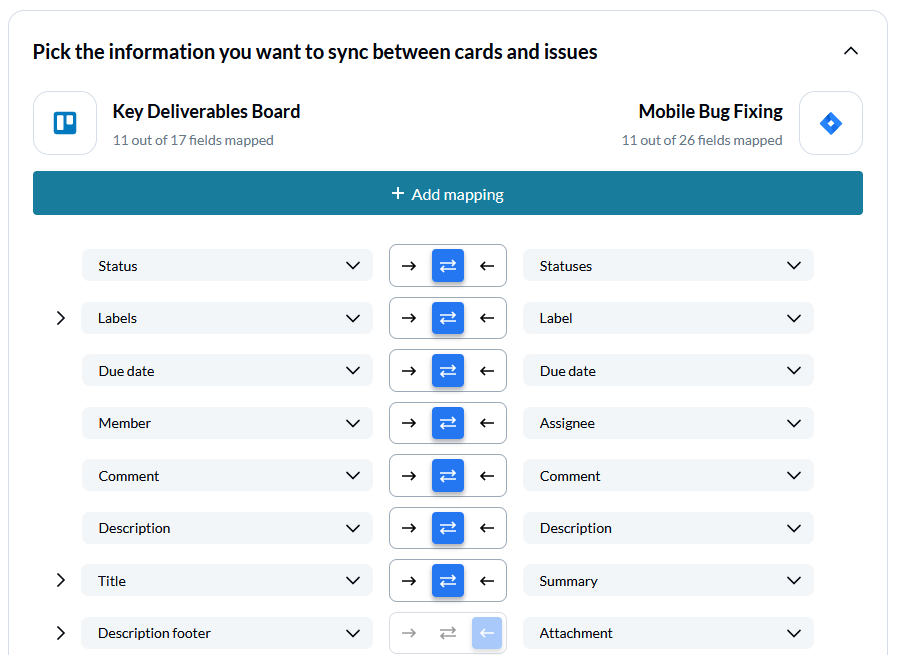 And launch!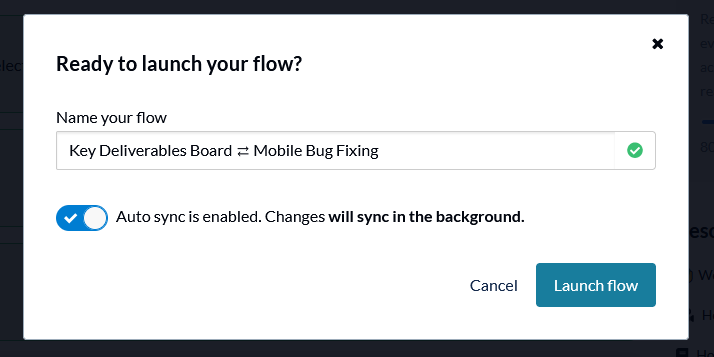 Unito's default settings automatically map similar fields to each other, meaning that even the most basic flow can cover a huge variety of use cases. That said, you can spend some time customizing your rules and field mappings to fit your use case. Check out how to do that for rules here, and field mappings here.
Unito also has a workflow designer, which lets you visualize your flows by creating a workflow diagram. This is useful for knowing how your teams work and communicating that to everyone else. Learn more about the workflow designer and how it works here.
How to sign up for Unito
You can sign up for Unito's standalone platform by clicking the Get started button on our home page.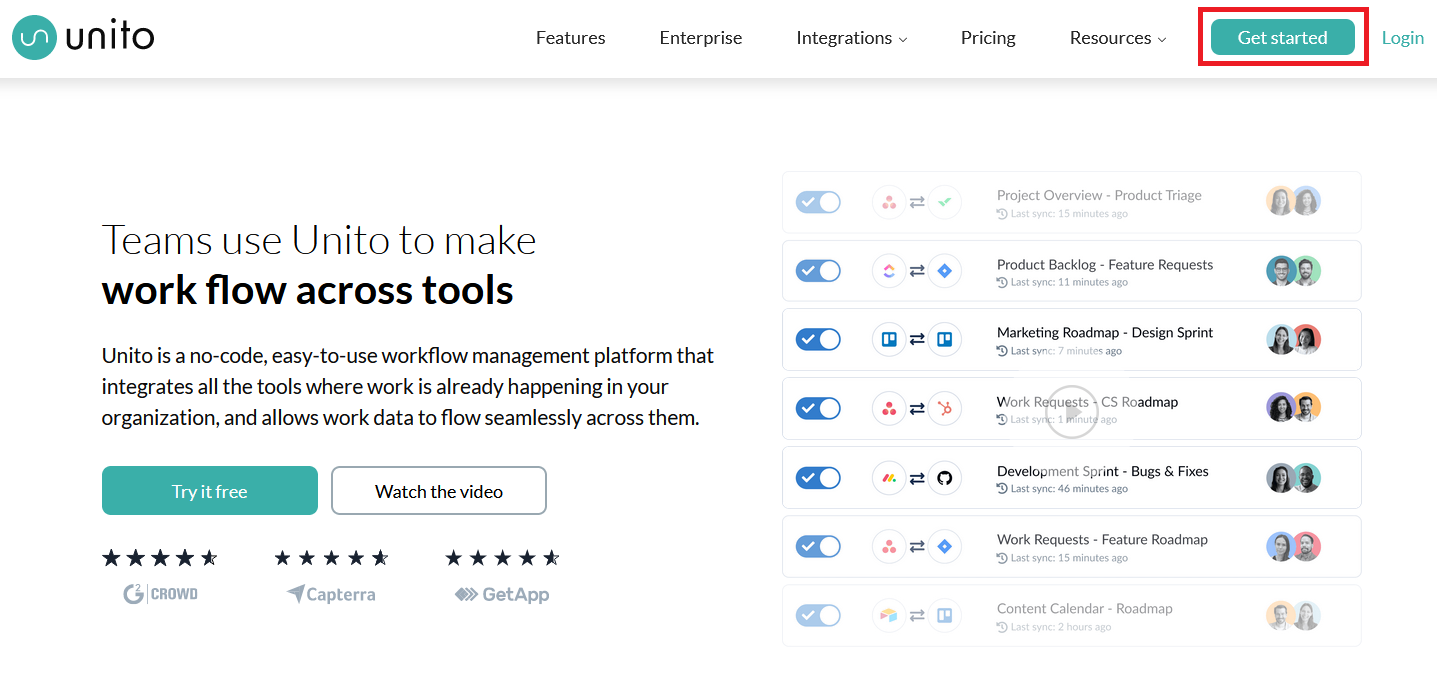 From there, you can either use an account from the work management tool you want to sync or an email address to sign up.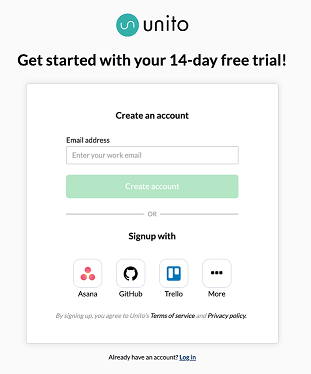 Unito is also available from the comfort of some of your favorite tools, so you can build flows without leaving the tool you love. We call these "embedded versions." You can't do everything in an embedded version that you can in our standalone platform, but you can still build fully-featured flows. Currently, embedded versions of Unito are available in Trello, Wrike, monday.com, and Jira. Signing up for an embedded version of your tool is done by going to that tool's app marketplace. For instance, you can find Trello Power-Ups that let you use Unito here.
Want to learn more about the differences between Unito's standalone and embedded versions? We have an article about these differences right here.
The Unito interface
Here's a quick legend of what you'll find in Unito's interface.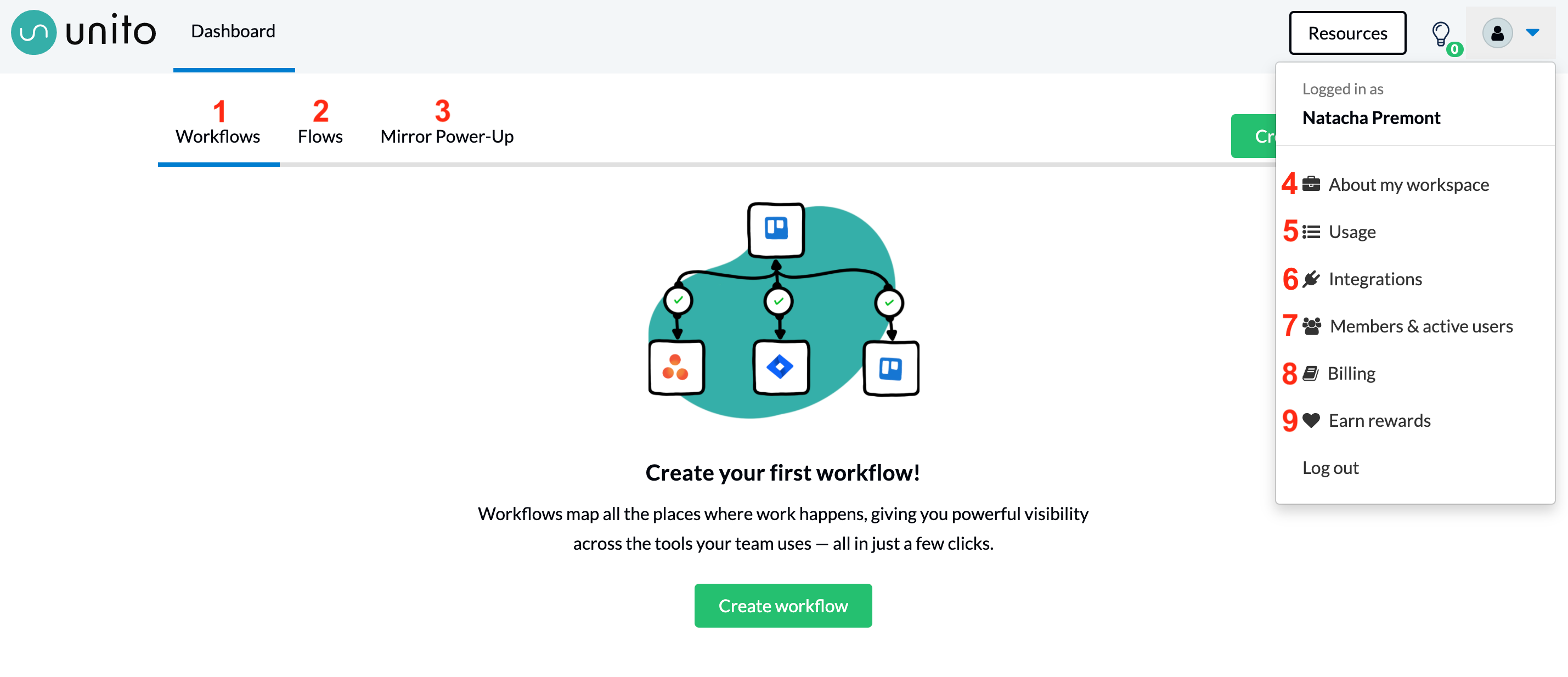 Workflows: Click here to access the workflow designer and create your first workflow. When you've created at least one workflow, this will show a list of your workflows.

Flows: This takes you to the flow list, where you'll see all the flows you've created.

Mirror Power-Up: When you sign up for Unito, you also get access to the Mirror Power-Up, which lets you mirror individual Trello cards. By clicking here, you can see your active mirrors.

About my workspace: Includes your contact information and the name of your workspace.

Usage: This shows the number of flows, users, mirrors, and workflows that are active in your workspace.

Integrations: Here, you'll see a list of all our available integrations, and you'll be able to connect your tools.

Members and Active Users: This is where you can invite people to your workspace and manage workspace as well as your active users.

Billing: This will show you your plan information, your plan's expiry date, which credit card is linked to your account (for all plans under Enterprise), invoicing information, and your billing history.

Earn rewards: Know someone who would get value out of Unito? Access our referral program here and get rewards for every contact you refer.
Have any questions? Just click on the chat bubble in the bottom right corner of your screen to reach out to us. We'll be happy to help.
Ready to start building a flow? Browse Unito's resources library for step-by-step guides, videos, templates, tutorials and more!