Find answers to all your questions about items in sync here.
What this article covers
What are items in sync?
An item in sync is any work item that is kept in sync by Unito as part of a flow.
They're different depending on the tool you use and what you choose to sync.
What are some examples of items?
Trello: cards

Asana: tasks

Google Sheets: rows

Github: issues
You can see a full list of items for each tool below.
How are items in sync counted?
We count each work item that we keep in sync in each block of work.
If you sync 10 tasks in an Asana project with a Trello board which then has 10 cards, that would be 20 items in sync.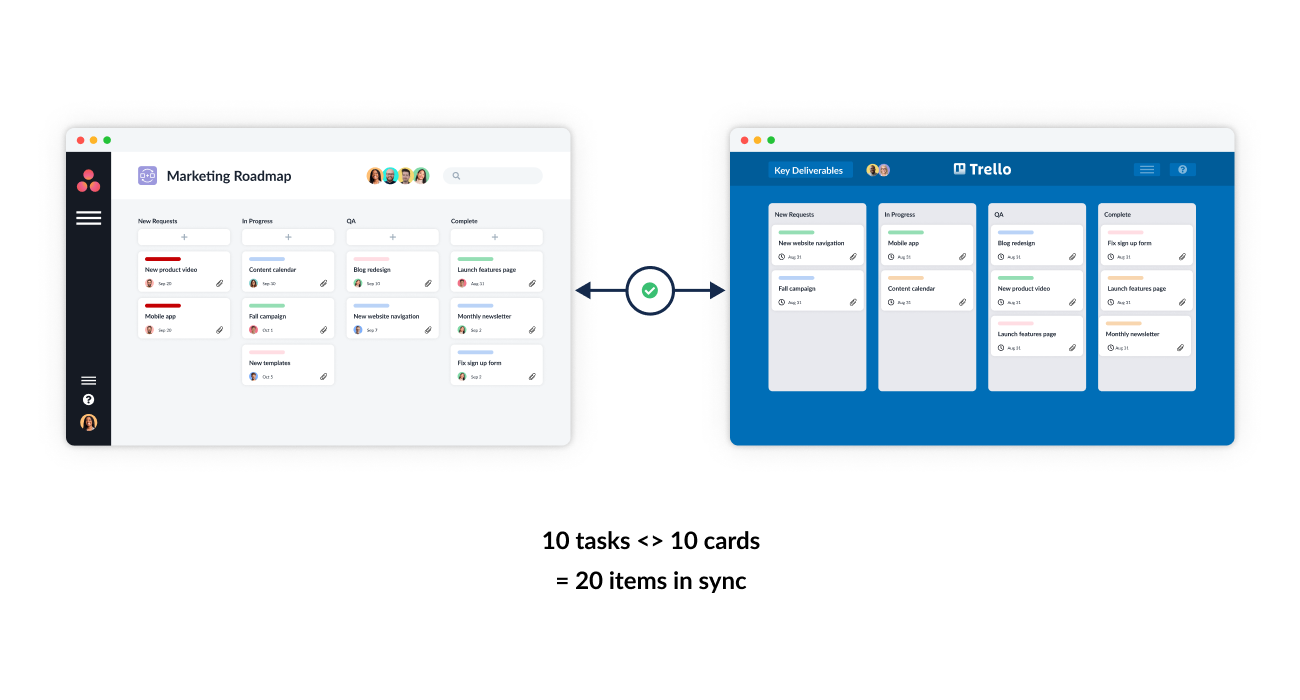 If you have the same work item in multiple flows, we still just count the number of items in each project.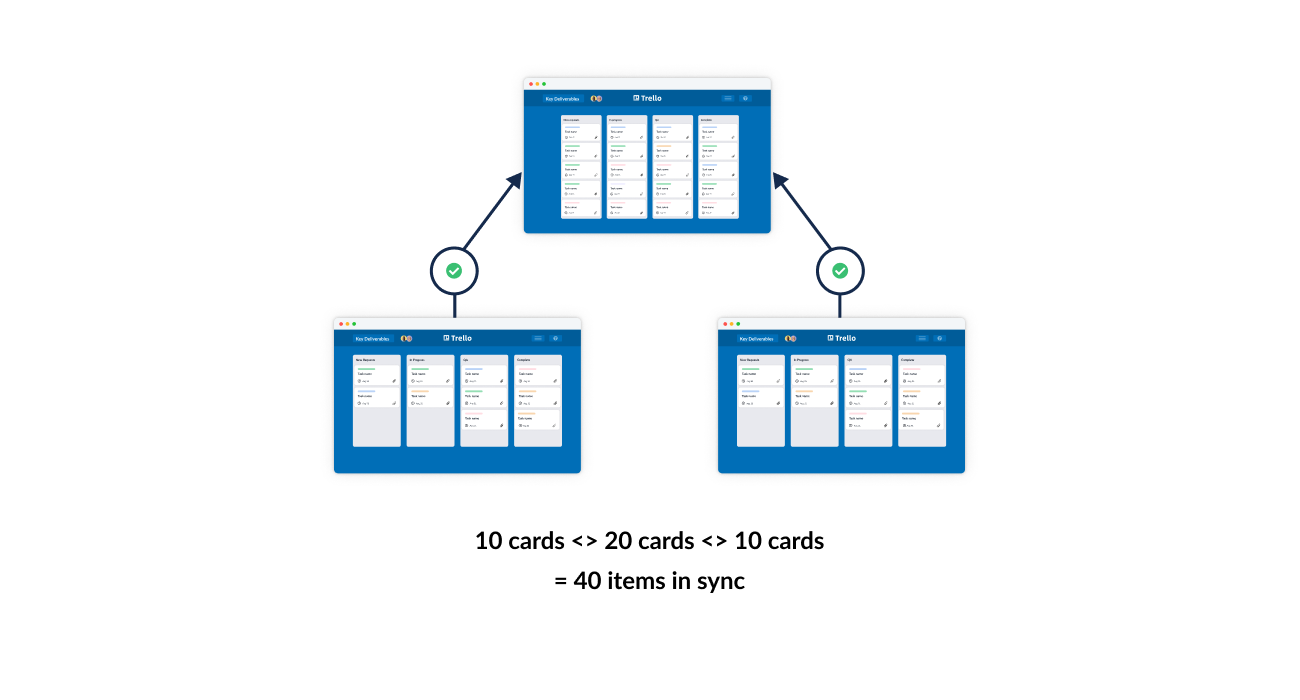 Subtasks and checklists are also counted as items in sync if they are mapped.
Attachments, comments, etc. are not counted as items.
One-way flows will still count work items in both blocks of work.
What affects the count?
If you delete a task in one board, it no longer counts as being kept in sync.
If you change your flow's rules to filter out some items (say, Trello cards that are archived), they won't be counted either.
Note: Archived or completed items are still kept in sync, so those would still count unless filtered out.
How often is the count updated?
The count is refreshed every 2-4 hours. So if you make a change to the filter settings on one of your flows, or delete a flow, you should see that reflected a few hours later.
How can you find out how many items you have?
There are several ways to figure out how many items in sync you have.
You can see the items in sync count in the top-right menu: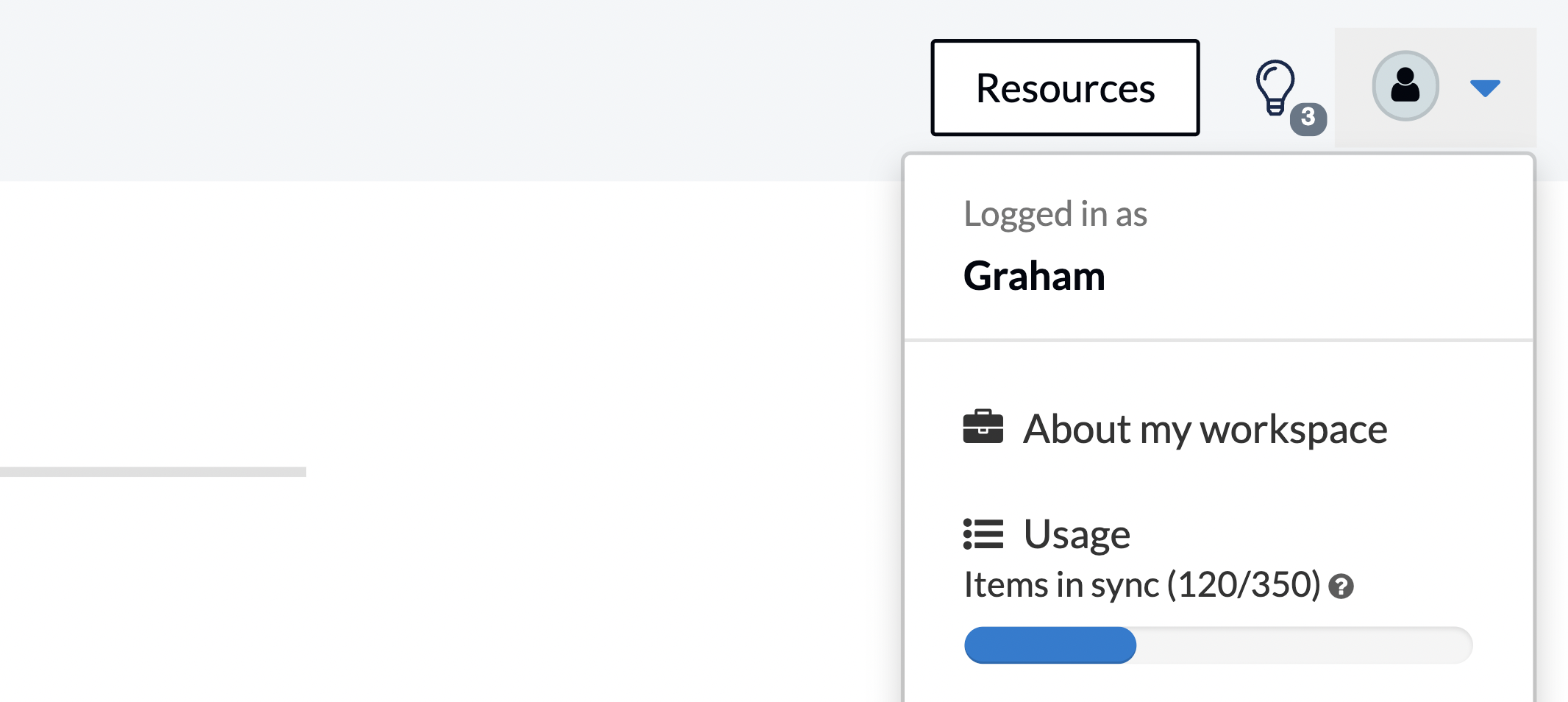 You can also see the count in your workspace's Usage page:

You can also see this count — and how it's changed over the past 30 days — on the Items in sync page in your workspace settings:

You can also look in your tools, at the projects involved in a given flow, and the number of items in them:
For example, if you have a Google Sheet to Google Sheet flow, you can look at the number of rows in each, and add them to get the total (assuming no filters).
We have a detailed article on how to estimate your items in sync for specific tools here.
We want to make sure you have an accurate way to read and use this data, so please let us know if you have feedback.
How to control the number of items in sync
Items that are filtered out will no longer be counted as items in sync.
So the best way to control the number of items in sync you have is to filter out items you don't need using rules.
We have a whole article on how to set up rules, or you can reach out to support for help.
What are the work items counted in each tool?
The following are the work items counted as items in sync in each tool:
Airtable
Asana
Microsoft Azure DevOps
Basecamp
Bitbucket
ClickUp
Favro
Github
GitLab
Google Contacts
Google Sheets
Hubspot
Tasks

Deals

Tickets

Contacts
Intercom
Jira
MeisterTask
Miro
Monday.com
Notion
Salesforce
Slack
Smartsheet
Teamwork
Trello
Wrike
Zendesk
Zoho Projects
If you still have questions — or need help figuring out which pricing plan you need — please reach out!