Find answers to all your questions about items in sync here.
What this article covers
What are items in sync?
A work item (e.g., a task, ticket, spreadsheet row, etc.) becomes an item in sync when it is created or modified automatically by a Unito flow. A flow is the connection you put together between two apps or tools, made of rules (triggers) and fields.
Examples of work items:
Cards: Trello, Miro

Contacts: Mailchimp, Microsoft Outlook, Salesforce, Google Contacts

Deals or Opportunities: HubSpot, Salesforce
Events: Google Calendar, Microsoft Outlook
Form Responses, Submissions, or Surveys: Google Forms, Jotform, SurveyMonkey, Typeform
Issues: Jira, GitHub, GitLab, Bitbucket
Items: monday.com, Azure DevOps
Messages or Conversations: Slack, Intercom
Pages: Notion, Confluence
Records: Airtable

Rows: Microsoft Excel, Google Sheets, Smartsheet

Tasks: Asana, Wrike, ClickUp
Tickets: Zendesk, HubSpot
How are items in sync counted?
We count each work item that we keep in sync in each block of work.
If you start with 10 tasks in an Asana project and sync those to a Trello board which then has 10 cards, that would be 20 items in sync.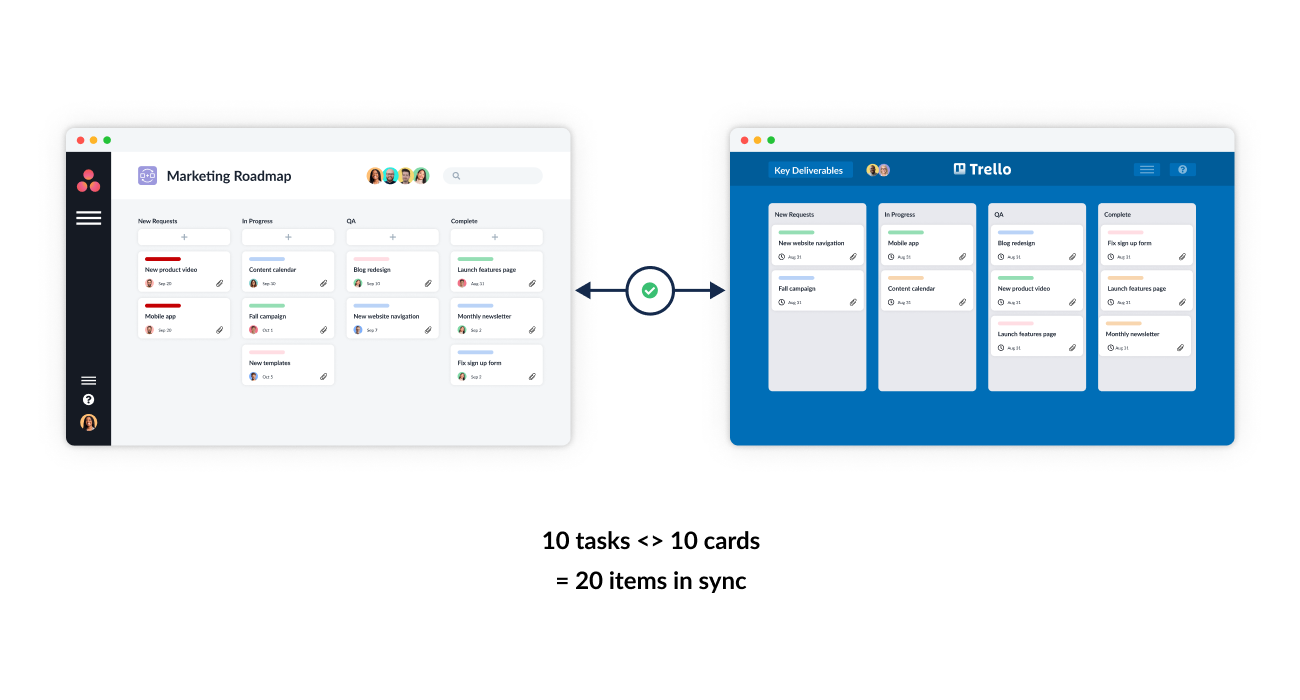 If you have the same work item in multiple flows, we still just count the number of items in each project.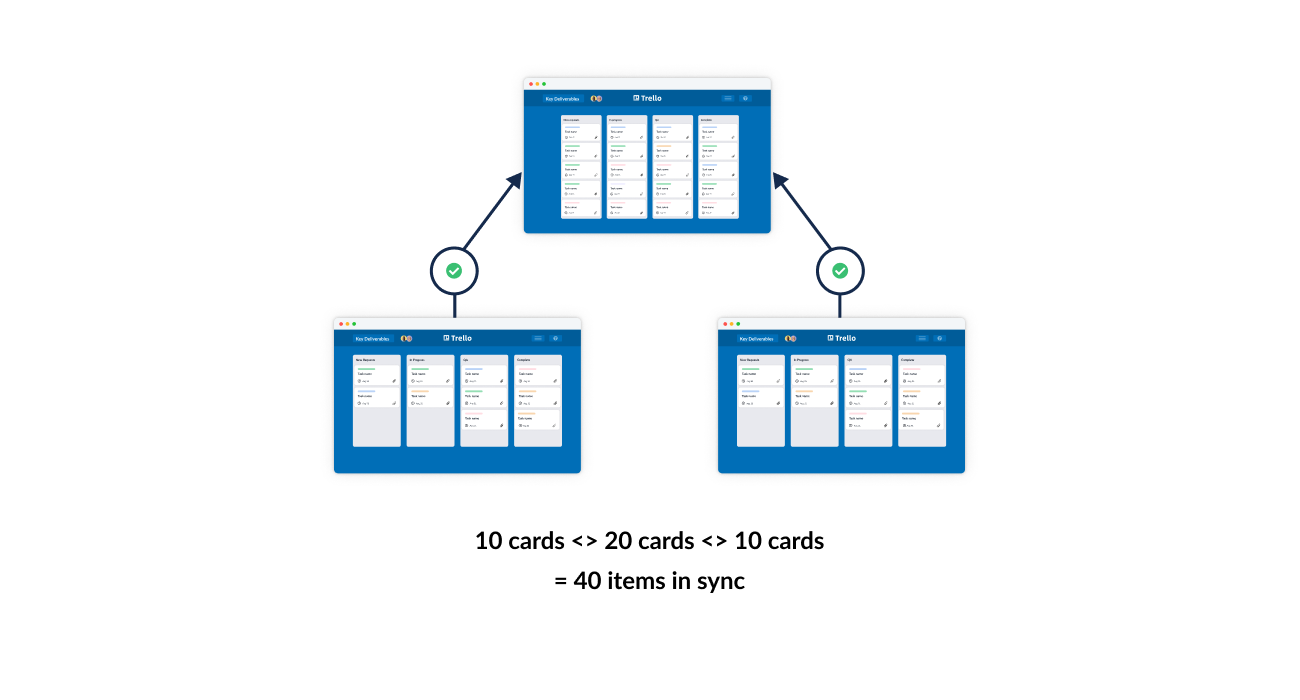 Subtasks and checklists are also counted as items in sync if they are mapped.
Attachments, comments, etc. are not counted as items.
One-way flows will still count work items in both blocks of work.
What affects my items in sync count?
If you delete a work item in one app or tool, it no longer counts as being in sync.
If you change your flow's rules to filter out some items (say, Trello cards that are archived), they won't be counted either.
The best way to control your items is to set up explicit rules of what you want to sync. We have an article about how to set up rules.
How often is my items in sync count updated?
The count is refreshed every 2-4 hours. So if you make a change to the filter settings on one of your flows, or delete a flow, you should see that reflected a few hours later.
Can I see how many items in sync I have?
There are several ways to figure out how many items in sync you have. Learn how in the video or screenshots below.
You can see the items in sync count in the top-right menu: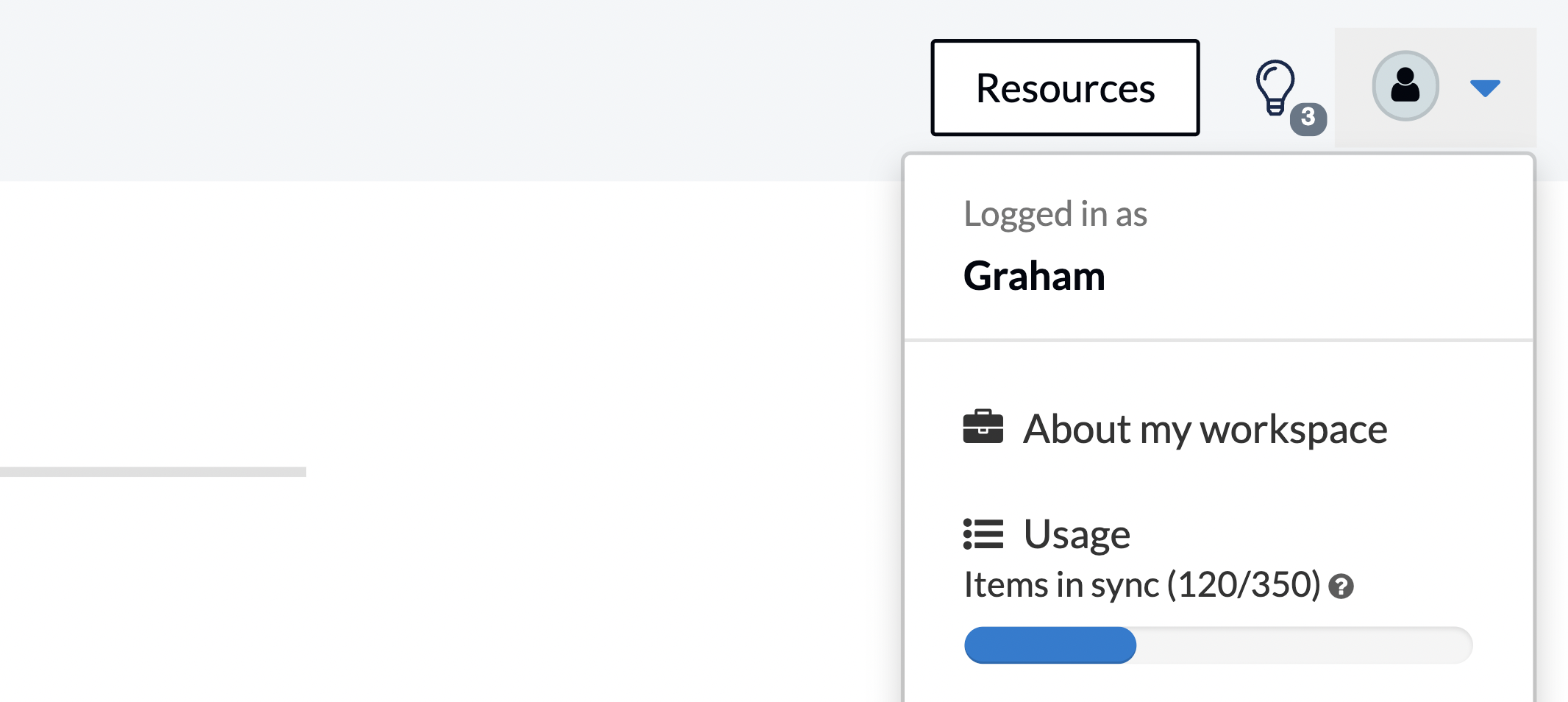 You can also see the count in your workspace's Usage page:

You can also see this count — and how it's changed over the past 30 days — on the Items in sync page in your workspace settings:

You can also look in your tools, at the projects involved in a given flow, and the number of items in them:
For example, if you have a Google Sheet to Google Sheet flow, you can look at the number of rows in each, and add them to get the total (assuming no filters).
We have a detailed article on how to estimate your items in sync for specific tools here.
We want to make sure you have an accurate way to read and use this data, so please let us know if you have feedback.
If you exceed your items in sync count, your Unito plan may be automatically upgraded to the appropriate plan based on your billing cycle.
You'll be notified of this in advance by email and in the app in case you'd like to stop that from happening.
How can I limit the number of items in sync?
Items that are filtered out will no longer be counted as items in sync.
So the best way to control the number of items in sync you have is to filter out items you don't need using rules.
Here's another guide to managing your items in sync count, or you can reach out to support for help.
Which work items count as items in sync for each supported app or tool?
Here's a list of all work items that count as items in sync for each supported app and tool:
| | |
| --- | --- |
| Tool | What becomes an item in sync? |
| Airtable | Records |
| Asana | Tasks, Subtasks |
| Azure Devops (Microsoft) | Issues |
| Basecamp | To-dos |
| Bitbucket | Issues |
| ClickUp | Tasks, Subtasks |
| Confluence | Pages |
| Favro | Cards |
| Github | Issues |
| GitLab | Issues |
| Google Calendar | Events |
| Google Contacts | Contacts |
| Google Forms | Responses |
| Google Sheets | Rows |
| Hubspot | Tasks, Deals, Tickets, Contacts |
| Intercom | Conversations |
| Jira (Server, Cloud, JSM) | Issues, Subtasks |
| Jotform | Submissions |
| Mailchimp | Contact |
| MeisterTask | Tasks |
| Microsoft Excel | Rows |
| Microsoft Outlook | Contacts, Events |
| Miro | Cards |
| monday.com | Items |
| Notion | Pages |
| Pipedrive | People |
| Salesforce | Tasks, Contacts, Opportunities |
| Slack | Messages |
| Smartsheet | Rows |
| SurveyMonkey | Surveys |
| Teamwork | Tasks |
| Trello | Cards, Checklists |
| Wrike | Tasks, Subtasks |
| Zendesk | Tickets |
| Zoho Projects | Tasks |
Why items in sync?
Unito saves you time and money by automating manual work that would otherwise have to be done by you or your team.
Keeping items in sync with Unito can prevent highly-skilled team members from wasting time on data entry or copy-pasting details from one place to another.
By handing that work over to Unito, you can optimize your day and enable collaboration on the most meaningful work instead.
And unlike most automation tools, you can make unlimited changes to what you keep in sync at no extra cost.
Add comments, update descriptions, change due dates—make as many changes to your work as you want, and Unito will sync it all.
What should I know about items in sync and Unito's Power-Ups for Trello?
2-Way Card Mirror
Mirrored cards count as items in sync just like any other work item, but Mirror users also have a limit to the number of mirrors (connections between two Trello cards) they can apply to their cards based on their Unito plan details.
Unito Board Sync
There is no difference between Unito Board Sync and our standalone app in terms of how items in sync are counted.
Export & Sync
Items in sync with this Power-Up function just like a Unito flow between Google Sheets and Trello through our standalone app or Board Sync. Trello cards exported to Google Sheets and new rows created by Unito count towards your items in sync limit.
If you still have questions — or need help figuring out which pricing plan you need — please reach out!
Looking for information but couldn't find it? Give feedback here.