This article will show you a few handy links and help you manage settings or make changes to your account.
What does this article cover?
Getting Started with Unito
If you're just beginning to learn your way around Unito, we have a set of onboarding videos that cover a range of introductory topics you may find useful:
You can also find articles to help you get started with Unito in our Help Center.
Need help with specific tools? You can find step-by-step guides here or documentation for various integrations here.
How to reset your Unito password
Resetting your password for Unito is fairly straightforward. Here's how to do it: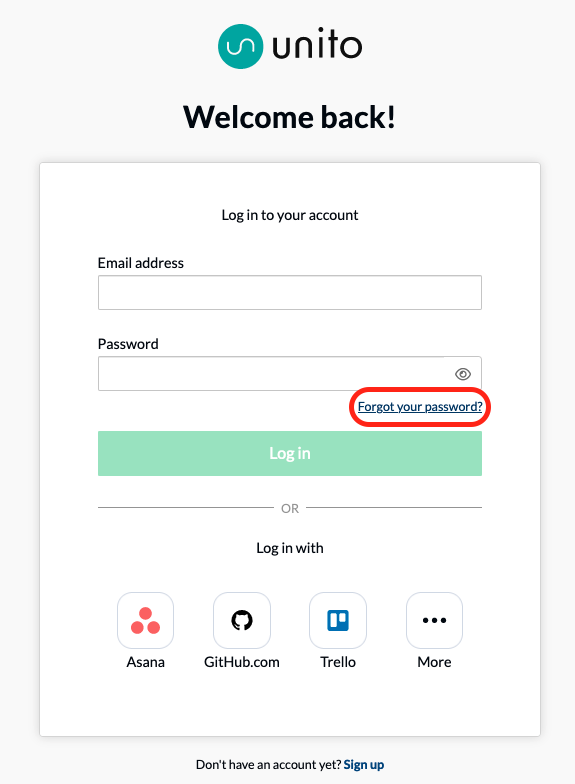 Type in the email address associated with your Unito account and hit Reset password:
You'll then receive an email from us with instructions to reset your password. Simply follow those instructions and you'll be all set!
How to review your plan's features
If you're ever want to see the exact features of your current Unito plan, we got you covered!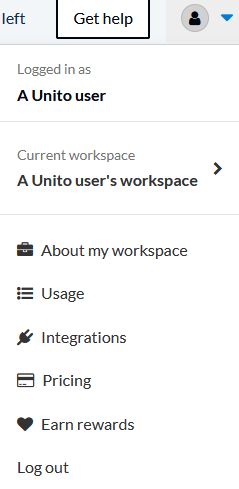 How to change your billing email address
If you would like to receive invoices from a different email address, you can also change it on this page. Just visit the pricing section as per the steps, then scroll to the bottom of the page. In the text field: 'Billing Email', you will find your current billing address. To change it, just type in a different email address and press the purple 'update' button.

How to choose your plan during a free trial
At any point during your trial, you can select which plan you want to sign up for by opening the More options menu in the top right corner of your screen and clicking on Pricing.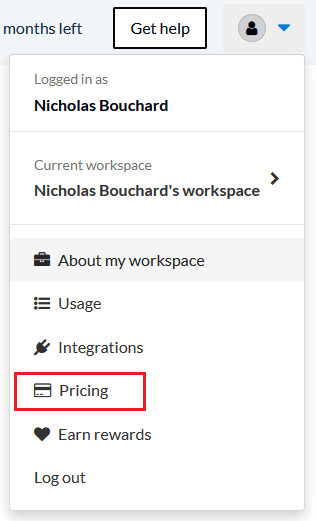 You'll then see a list of our plans and their features.
If you're not sure which plan best suits your needs, please
reach out
to us! We'll be happy to help.
How to cancel or pause your Unito subscription
If you want to unsubscribe from your Unito plan or cancel your account, here's how to do it:
Before you cancel it would be great if you could contact us and give us feedback about your experience with Unito. If the service isn't working the way you expected, let us know why and we'll gladly work on improving it for the future.
If you've encountered a bug or error, and can't find your answer in the Help center, contact us and our live support team will reach out to do their best to get you back up and running. We'd love to chat and see if there's something we can do to help you out.
Still on your Unito trial?
If you're still in your free trial, you'll have to reach out to our support team so they can cancel your Unito account for you.
How to change the credit card on file
Need to change the credit card you use with Unito? Easy. Start by opening the menu in the top-right corner of your dashboard, then click on Usage & billing.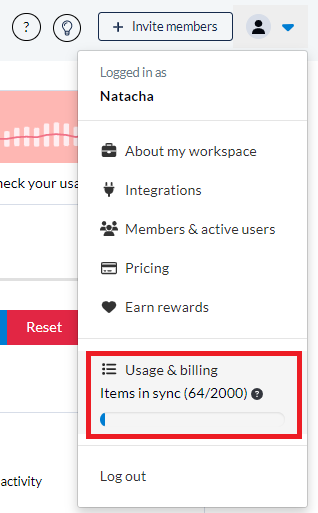 Once on the Usage & billing screen, click on Billing information.

After that, you'll see your credit card information. Just click on Change your credit card information to update it.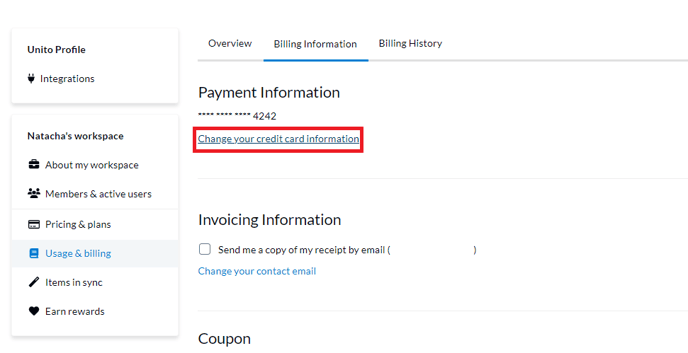 Additional Resources
Got a particular question in mind? Check the FAQ section of the Help Center
Need to add more people to workspace? Want to manage your items in sync?
You can also find a list of common security questions and troubleshooting articles here.
Need anything else? Get in touch with our support team. We're ready and eager to help you get the most out of your Unito plan.