Any error you run into while using Unito has a fix, or a workaround. Here are the most common bugs Unito users face, with solutions.
Error messages covered in this article:
Resource not found
This is a common error code when using Trello power ups. If you're encountering this issue while using the Mirror or Board Sync Power-Ups in Trello, try using the Unito App instead to complete your action. If you're using the app and experience this issue, wait 5-10 minutes and refresh your page.
Please try again
A really common transient error with a really easy fix. Just refresh your page and wait for it to resolve on its own. This usually won't require support intervention.
Flow appears as "Unable To Sync"
This flow status should resolve itself after clearing your browser's cache and then refreshing your page. The method for clearing the cache is different on each browser, but here are instructions on how to do so for the most popular browsers:
Forbidden
This is usually just a hiccup and a simple page refresh should fix it, but it could also be a symptom of your connector not having permission to access something they need. If this error pops up once, ignore it. If it appears repeatedly, reach out to us for support.
Invalid authentication credentials
This error message is either a small bug in the system, or a notification that one or more of your connectors is disconnected. First, try reloading the page. Then log out and log back in. If that doesn't resolve it, go to the connectors page and search through your connectors for one with an exclamation point on it, and then click it and press 'reconnect'. Here's how you can do that.
Error in a connector
Sometimes this error message is just a small glitch in the system that a page refresh could fix, so try that first. Often though, it means that there's a problem with one of your tools that you're connecting with. If it doesn't resolve itself, please contact us!
These projects are already synced together by Unito
This message appears when attempting to create an exact duplicate of a flow that you've already made. This is not possible, and in general, everything should be handled in just one flow without making copies. That this can happen if you're trying to create a flow for a Trello board that already has a Mirror in it. Since Mirrors are a type of flow, you can't have a Mirror and a standard flow in the same Trello board.
You don't have access to this flow
This message may occur when trying to duplicate a flow that you haven't created. Only a flow's original creator can duplicate it. If you're unsure who created a flow, just click the upright ellipses for that flow, then click Edit.

The next screen will show you who created the flow, right under the flow's name.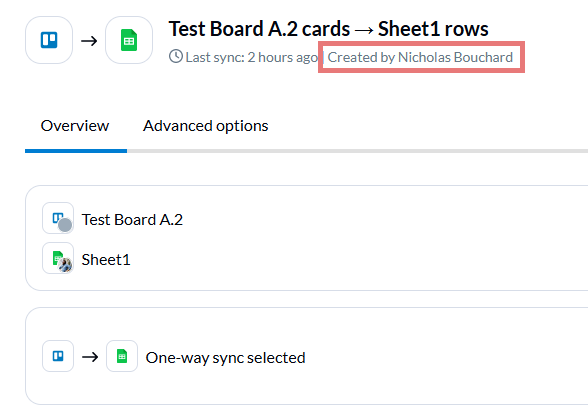 The best way to avoid this error is to create a bot user for your workspace that has access to all connectors.
Something went wrong...
Just a tiny bug! Often related to the "Please try again" error message. Refresh your page and this should disappear.
You can't remove this connector as you are logged into Unito with it
If for whatever reason you're attempting to clear all your connectors, this is the error message you'll get on your last one. Unito logins are done through tools, so clearing out all your connectors would functionally log you out, which wouldn't make any sense, so we've added a way to stop that with this error message. It's working as intended, but if you're having issues with your account or connectors, you can always contact us.
You can't remove this connector because it's in use
Similar error code to the one above. If one of your flows is currently using a connector to make changes, you will be unable to remove it. You can fix this by editing your flow and changing the connector on the 'Choose projects' page of your flows. If you only have 1 connector for that tool, you can add a new one in the Connectors tab.
You cannot log into Unito with a shared connector
Usually, this happens because the account you're using to log in is tied to multiple users (usually because it's a bot account) so you won't be able to log in with it. Try using a different account.
If you're using a bot user in your workspace and have logged into the Unito app using your own credentials and the credentials of a bot user, then there's a chance that you'll receive this error code. In general, you should never log into the Unito app with your bot user's credentials.
Flows appear as "Inaccessible" in the Unito app
Some users have occasionally found their flows marked as "Inaccessible" in the Unito app. While in this state, flows will not work. This tends to be more common with Jira than with other tools due to Jira's extensive permission settings.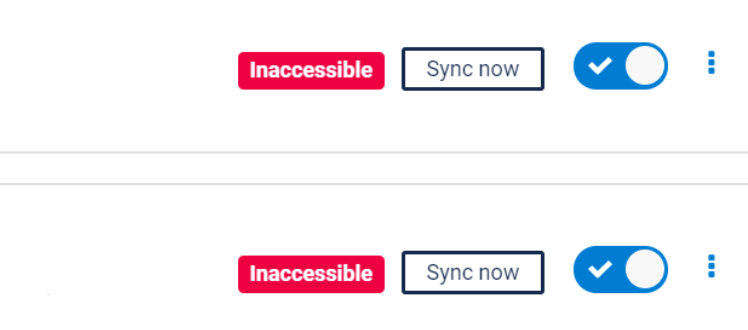 Having flows marked as "Inaccessible" almost always means there is an issue with one or more of your connectors. For example, if one of your synced projects gets deleted, the flow it was a part of will be labelled as Inaccessible. If your administrators changed your permissions on the project you are a part of, it will also be marked as inaccessible.

Sometimes, though, it could happen for no apparent reason at all, and could be attributed to a bug in the link between your connector and Unito. To fix this, go to the connectors page and search through your connectors for one with an exclamation point on it, and then click it and press 'reconnect'. If none of your connectors have an exclamation point on them, try disconnecting and reconnecting them anyway.
Like with anything else, if this doesn't fix your issue, please contact us.
unable_to_verify_leaf_signature
This error happens when there's a problem with your SSL Certificate. The exact cause will vary depending on your specific situation; you should notify your network administrators. They'll be able to help you troubleshoot this error. Alternatively, you can consult our HTTPS and Port requirements here. If you're using Unito with an on-premise Jira or GitHub server, you can also find solutions for this error here.
Status unavailable
This flow status usually means there's an issue with the flow status service. Not to worry, though! Refresh your page once or twice and you should get an updated flow status.
Your Unito account is suspended
The Unito workspace you're trying to work from has an expired trial. If you're part of multiple workspaces, you can click through this error, then use the top-right dropdown to select the right workspace.