Milestones allow you to track progress in Asana projects. Here's how you can sync them between tools with Unito.
What this article covers:
How to include milestones in your workflows

How to exclude milestones from your workflows
Want to see your Unito flows without ever leaving Asana? Check out the Flow Preview App for Asana here.
How to include milestones in your workflows
We've created a new rule that differentiates between tasks and milestones: task type. This means that milestones will be synced automatically when you create a new flow. The only thing you might want to do is check that your milestones are properly mapped. You can do this by customizing your flow.
Why the extra step? If you're syncing two Asana projects, milestones will be synced with each other across projects automatically.
But if you're syncing Asana with Jira, for example, you might need to tinker with your mapping. Maybe you'll want to sync milestones with epics, while tasks might get synced with issues, stories, tasks, or bugs.
How to exclude milestones from a workflow
Say you don't want to sync your milestones. Not a problem! By adding a rule, you can exclude milestones from your flow. This can be done when creating a new flow and editing an existing flow. From the "Rules" screen, click on "Add a new trigger" and pick "Task types." From there, pick "is" and "Task" from the following dropdowns.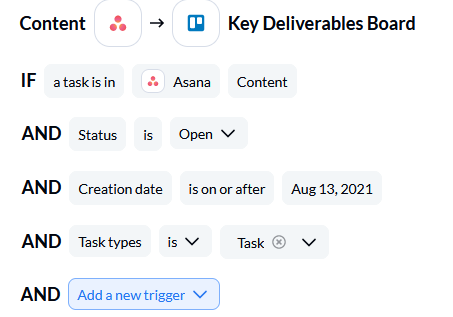 Just like that, your regular Asana tasks will sync as usual, but your milestones will be excluded from your workflow.
Did this answer your question?