Our monday.com integration is still in beta, so there are a few differences to keep in mind compared to other integrations.
How does this beta work?
When an integration on the upcoming integrations page gets enough interest, we start working on adding it to the Unito toolbox. We then release a beta version of the integration to provide users with early access. That opens it up to feedback that we can tailor to better suit your needs and use case.
Here are a few differences between a beta integration and a regular integration that you should know about:
Supported fields and other features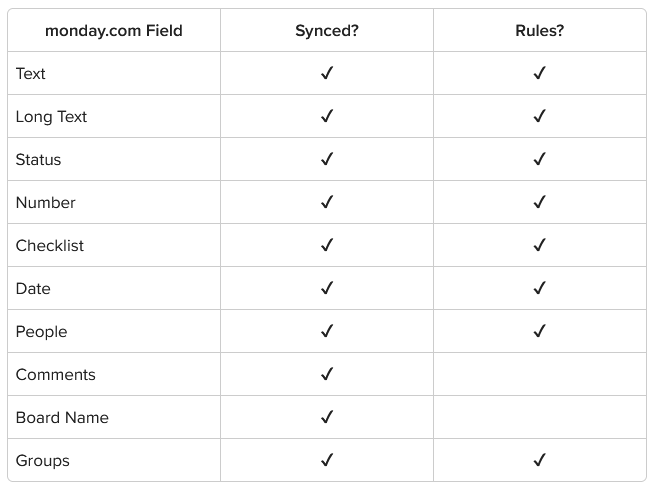 If there's something you'd like to see from this integration that we're not doing yet, please reach out to us! Your feedback helps us focus our efforts.
What counts as an item in sync?
For monday.com, Unito counts every synced item as an item in sync.
What this integration doesn't support (yet!)
Here are a few things to keep in mind when using this integration:
Unsupported fields: Currently, our monday.com integration doesn't support the Board, Dropdown, Timeline, or Email fields.
Attachments: Attachments can't currently be synced with this integration.
Subtasks: This integration doesn't support subtasks quite yet.
@mentions: Syncing these isn't possible yet.
Signing up for Unito: You won't be able to sign up for Unito directly from your monday.com account. You'll have to sign up with your email address, or another work app/tool account. If you need more help, you can follow this guide on how to add Unito to your monday.com account.
OAuth Scopes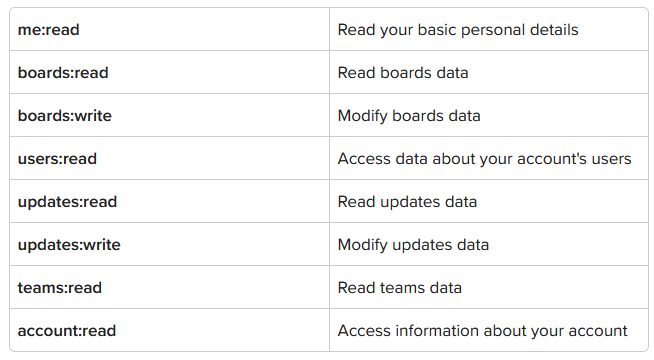 Ready to get started?
Here are a list of step-by-step guides to help you connect your monday.com account to Unito with:
Don't see your tool above? Don't worry! Most of these guides follow the same process, so simply select whichever one is closest to your own.