Looking to add Wrike to your workflow? Here's what you can expect from our integration.
Supported fields
Here are the fields you can currently sync with Wrike and whether they can be used in rules or not.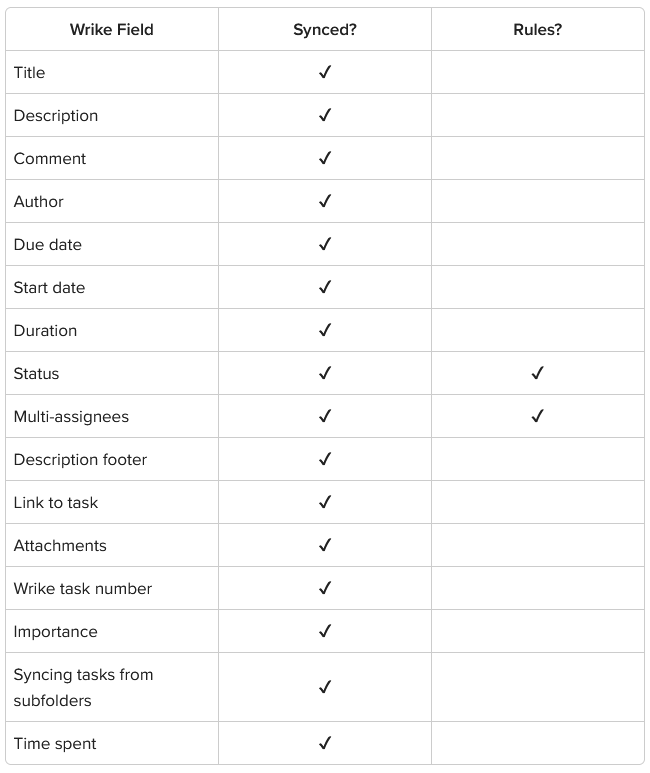 What counts as an item in sync?
For Wrike, Unito counts both tasks and subtasks as items in sync. So if you sync a Wrike task that has a subtask, Unito will count that as two synced items.
Custom fields and other options
Our Wrike integration supports a number of custom fields and other customizable settings.
Custom fields
The custom fields supported by this integration are Text, Date, Dropdown, Numbers, Checkbox, and Multi-Select. You can also build rules using the Dropdown field.
Subtasks
You can sync Wrike subtasks to other tools with subtask support. These tools are Asana, Jira, Trello, and ClickUp.
@ mentions
Want to send notifications across tools? With this integration, you can sync mentions from Wrike to other tools.
Limitations
We're constantly looking to better support Wrike's growing list of features, fields, and use-cases. Here are a few common limitations you should be aware of:
Dependencies: You won't be able to sync dependencies quite yet.

Multiple subtask hierarchy: Unito will only sync the first subtask for each work item. This will not affect the subtask hierarchy that already exists in your tool, it just means you can't sync that information over.

Time spent: Wrike's Time spent field is incremental and as such can only increase in value. The field it is mapped to will be able to update it as long as its value is greater than the current time spent in Wrike. If the value in the field is less than Wrike's Time spent, it will not be updated.
Is there an embedded version of this integration?
Yes! You can sync Wrike tasks to other tools without leaving Wrike through its Wrike Sync add-on, powered by Unito. Note that this add-on is limited to the following integrations:
Jira

GitHub

GitLab

BitBucket

HubSpot

Salesforce

Azure DevOps
Google Calendar
You can learn more about the differences between Unito's standalone app and Wrike's add-on here.