How to Sync GitHub Milestones to Wrike Milestones are a great way to group issues into projects or even time periods. Now you can sync them with your project management tool. Hannah Morgan
What this article cover:
The benefits of using milestones in project planning

How to sync GitHub milestones to Wrike

Tips and limitations of this sync
The benefits of using milestones in project planning
Milestones are a great way to group issues into projects, features or even time periods in GitHub. It helps teams find their way in the ever growing list of issues and focus on what needs to be done.
This information is essential when you are planning work with your team so it was a priority to let you sync your GitHub Milestones with your favorite project management tool.
How to sync GitHub milestones to Wrike
1. Create a custom field in Wrike to host the Milestone information
Before you can sync the GitHub milestone to a custom field, you need to create that field in the destination tool e.g Jira). This is supported in Wrike, Asana and Jira. Here's how to do it in Wrike:
In Wrike, select a Folder or Project where you would like to see Milestones (you can choose an already synced project, especially if Unito created a new project for you)

Switch to the "Table" view (1)

Click the "+" sign that appears on the right-hand side of the table. (2)

Type in a name for your new field and press "Enter" on your keyboard.

Specify field properties on the pop-up. (3)(4)(5)(6)

Click Save!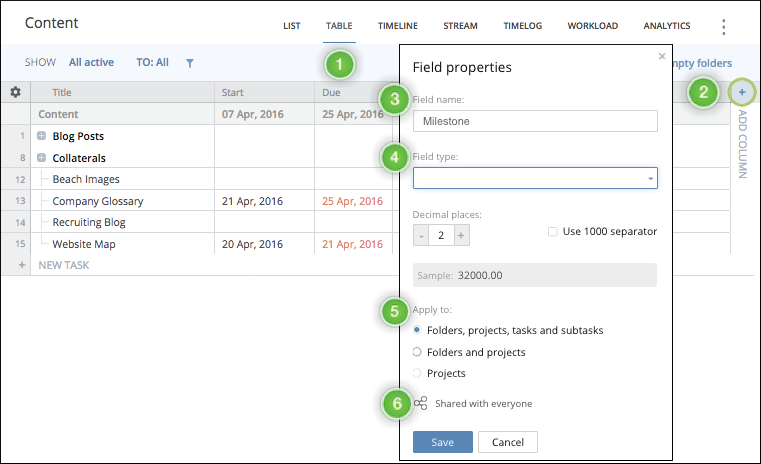 2. Map your Milestone fields in Unito
Go to your Sync settings in Unito and click on the "Fields" tab. You will see a bunch of fields from Wrike and GitHub that are already mapped together.
Click on "Create New" and choose "Milestone" in the GitHub drop-down menu and "Milestone" (or whatever you called your custom field) in the Wrike drop-down menu. Click "Add".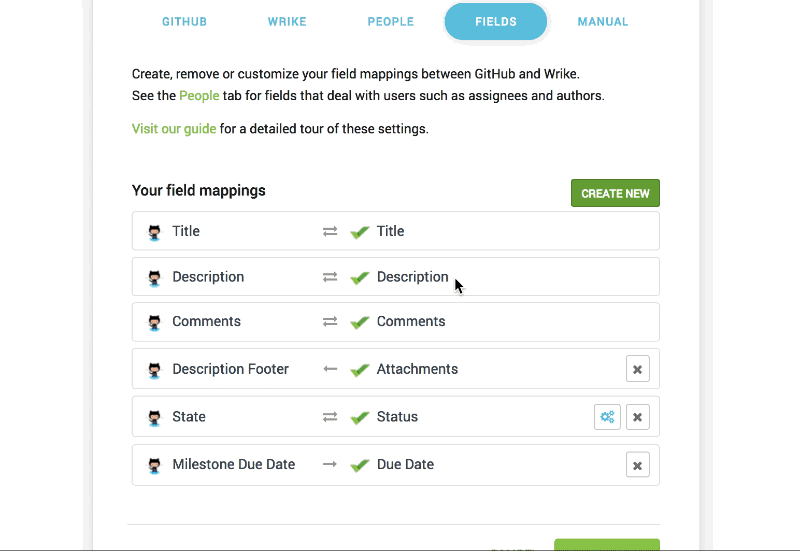 Note that this will instruct the Unito engine to populate the custom field with the name of the GitHub Milestone.
The good news is that you can also map the Milestone due date from GitHub to the task due date in Wrike, just map the according fields.
For that, click on "Create New", and choose "Milestone Due Date" on the GitHub side, "Due Date" from the Wrike drop-down menu, and click "Add".
Save your settings and that's it! Your project(s) will start populating with GitHub Milestone information!
Tips and limitations
When you change the task due date on Wrike it will not change the Milestone due date in GitHub (to make sure you don't accidentally change every other issue due date)

You can change the Milestone or fill one directly in Wrike. Unito will look for for the closest matching Milestone in GitHub and add it to the issue (for example 'Sprint 5', 'Sprint5', 'Sprint-5' will match to the same Milestone for Unito, but 'Sprint 4' and 'Sprint 55' won't. Neither will 'Sprint 2.1.0' and 'Sprint 2.10' match.)

If you set the custom field to a value that doesn't match any existing GitHub Milestone, it won't modify the corresponding issue in GitHub.

A Milestone cannot be created via Wrike, Unito will always look for an existing one. We recommend you create the Milestone directly in GitHub.
What's next?
Learn more about syncing GitHub with Wrike.
Learn how to sync GitHub with Jira.
Not a Unito user? Try Unito for two weeks free!
Already a user? Sign in here!
Did this answer your question?