A Primer on Unito's Google Calendar Integration Our Google Calendar integration is now in beta! Here are a few things you should know before you start using it.
How does this beta work?
When an integration from our upcoming integrations page gets enough interest, we start working to add it to our suite. The first step is working towards a beta version of the integration so you can get access to it earlier. That gives you the chance to send us your feedback and lets us tune it to better fit your use case.
Our Google Calendar integration is now in beta, meaning you can add it to your flows right now! Our beta integrations don't usually support as many fields or features as other integrations. More on that below.
Synced fields and other features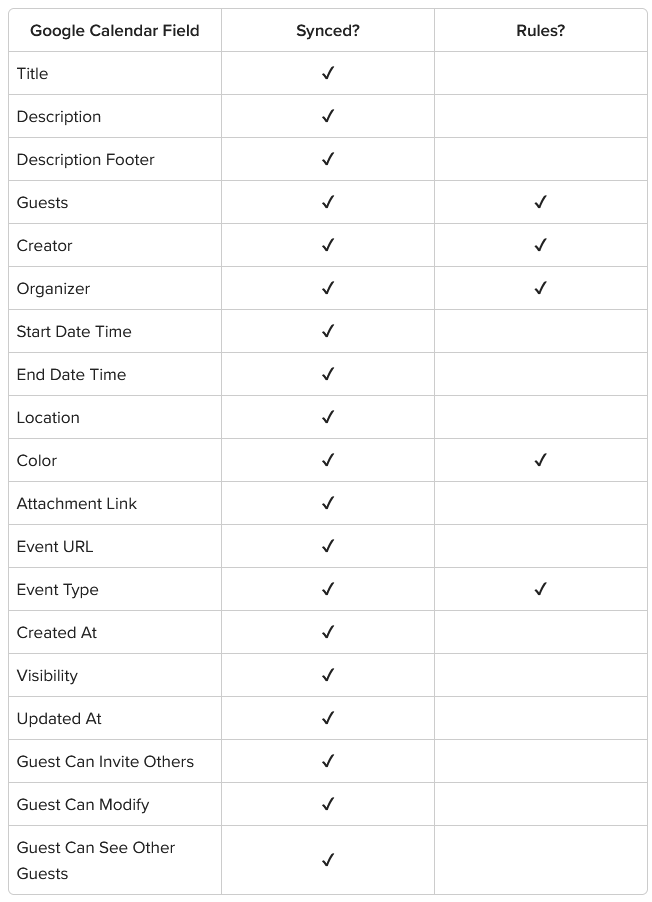 Limitations (and other things to keep in mind)
Because this integration is still in beta, there are some limitations you need to know about.
Google Contacts permissions: To sync event guests, Unito will need access to your Google Contacts account.

Start Date or End Date must be mapped: In order for your Unito flow to work properly, you'll need to map one date field in your work item to either a Start or End Date in Google Calendar. For instance, if you're syncing Google Calendar events with Trello cards, you might map the event's End date with the Trello card's Due Date.

Syncing all-day and multi-day events: You can sync both kinds of events using Unito. Reference the chart below to see how you can use Unito to create all-day and multi-day events.

Compatibility: Currently, it isn't possible to sync Google Calendar events with work items that don't have dates (e.g. contacts).

Historical data: Unito will sync events within a total period of 18 months. Specifically, the six previous months and the 12 upcoming months. This keeps your flows from running into performance issues.
Deleting Google Calendar events permission
When you first connect your Google Calendar account to Unito, you might notice that Unito needs permission to permanently delete events. Don't be alarmed! This permission is a requirement for this integration to work, but Unito never deletes your data. In fact, we have a very strict policy regarding content deletion. You can find the full policy here, but the essence of it is Unito will never delete data on the platform it originates from.
Say you sync Google events to Trello, where they become new Trello cards. If you delete, close, or archive a Trello card synced to a Google event, the original event will never be deleted. So even if Unito needs this permission to work properly, we will never delete your events.
For flows created before June 28th 2022
If you created a flow involving Google Calendar before June 28, 2022, Unito required a Start Date from the connected tool in order to be synced with Google Calendar. Any flows created before that date will still require a Start date to work. If you want to remove this requirement for existing flows, you'll need to change this by accessing a flow's advanced options. You'll see JSON text in that box. Remove it and click Save.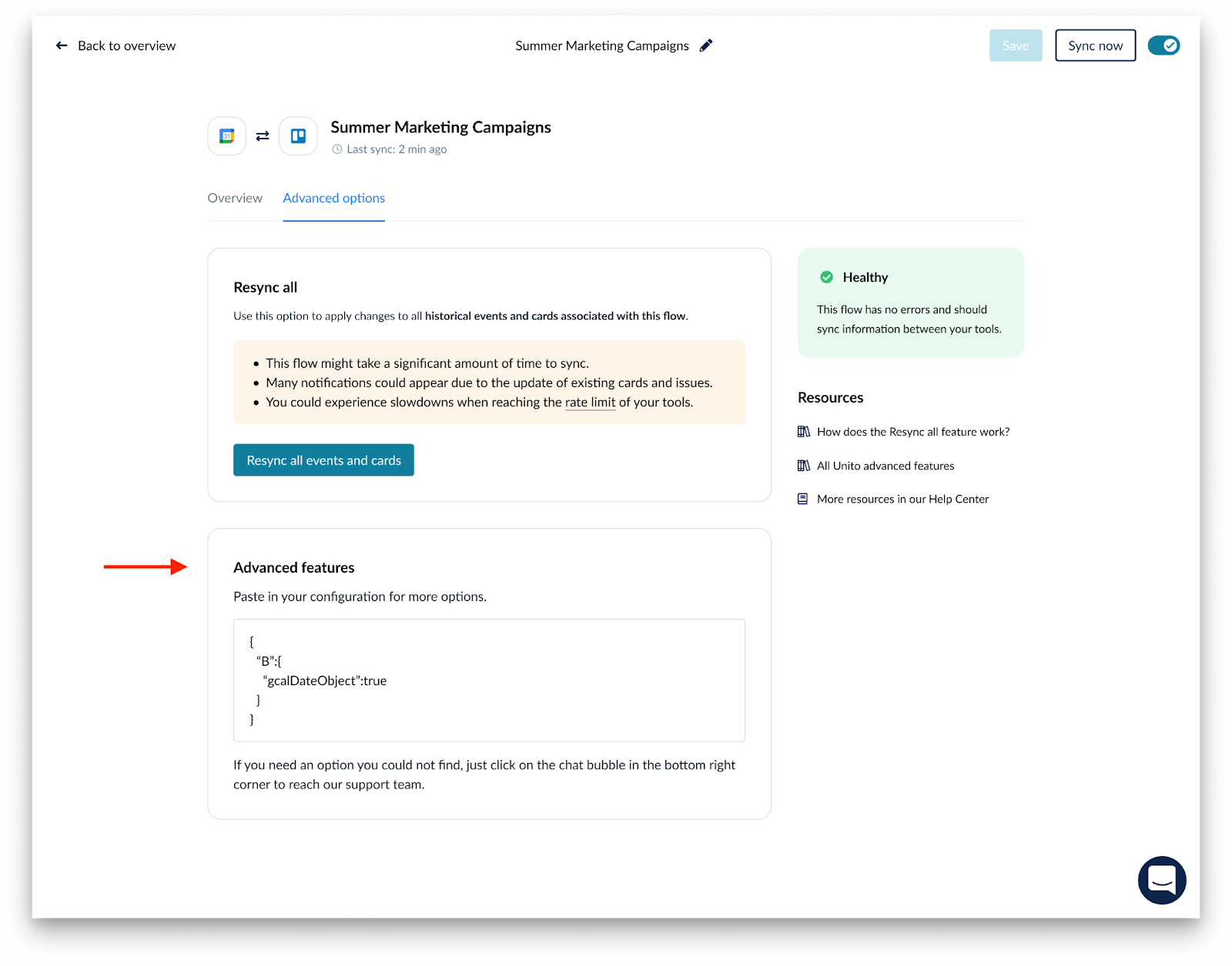 You'll then be asked whether you want these changes to apply only to new events and other work items or all historical data. Pick the option you need and click Save.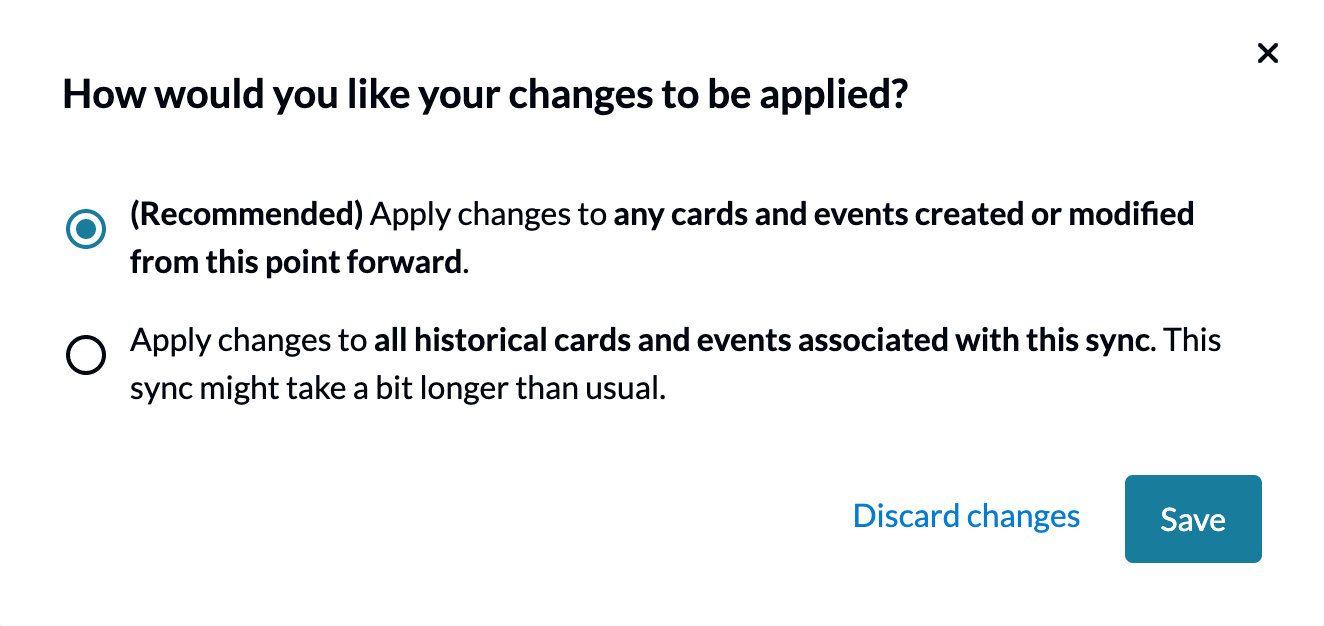 How Unito creates new Google Calendar events
When creating new events in Google Calendar to keep in sync with work items in other tools, Unito will use Start date, Start time, Due date, and Due date time to schedule the event. Note that their names might be a bit different depending on the tool you're using. Here's what you can expect, depending on which fields are available in the original tool and the fields you've mapped: