Need to include GitLab in your workflow? Here's a list of the fields you can sync, customization options, and more.
Synced fields
Here are the fields you can sync with GitLab and which ones you can use in rules.
Most fields can be synced in both directions. That means changes in one tool will be reflected in the other and vice-versa. You can also edit a flow (or a specific field mapping) so that changes only go in one direction.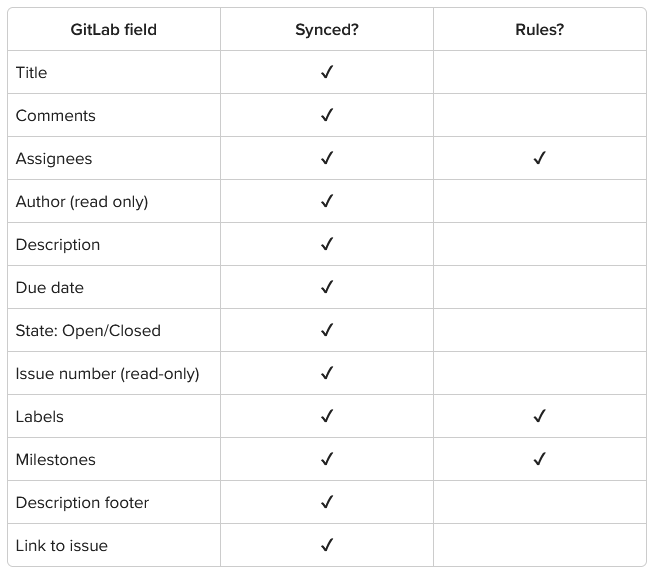 What counts as an item in sync?
For GitLab, Unito counts every synced issue as an item in sync.
Customization option: issue number prefixes
You can also sync GitLab issue numbers as prefixes to task titles in other tools. That means you could have tasks in a tool like Asana that include the GitLab issue number in the title.
Limitations
We're constantly looking to improve our GitLab integration. With that in mind, here are a few limitations you should be aware of:
Syncing GitLab labels to status fields: While GitLab labels are often used to indicate status in GitLab, they can't be mapped to status fields in other tools. Instead, you should try mapping them to a multi-select dropdown field in your other tool.

Syncing merge requests: Merge request statuses also can't be synced.

GitLab groups: Not currently supported. Syncing subgroups also isn't possible.
Necessary permissions
The GitLab account you use with Unito needs to be a member of the organization that owns the repository that you want to sync. You'll also need push — or read/write — access.
We use webhooks to improve workflow performance. To create those webhooks, the GitLab account you use with Unito must have Maintainer or Owner-level permissions. That's because we need the Configure project hooks permission. You can learn more about GitLab's user permissions here.