Is the Team plan right for you? Learn about the plan's features, characteristics, and how it compares to the Company plan.
The gist of the Team plan
The Team plan is the next plan up from the Personal plan. While it doesn't cover as many items in sync as our more comprehensive plans, you still get Unito's deep, two-way integrations for the work management tools you need to use. Note that the Team plan can be scaled up to 2000 items in sync to match your needs. This means adding items in sync and active flows for an extra cost. Here's what you get with this plan:
Starting at $46 a month when billed annually

350 items in sync: An item in sync is any work item that is kept in sync by Unito as part of a flow. They could be tasks, spreadsheet rows, contacts, tickets, deals, etc.—it depends on the tools you're using. With 350 items in sync, you'll have enough to cover your team and a few collaborators, or a couple small teams. You can find out more about items in sync here. You can select a higher Team plan for more items in sync (up to 2000).

Five-minute syncing: After your flow is created, we'll check for changes to your items every five minutes. Then, we'll sync any of the changes made in that time. This means you won't instantly see the changes made to a task. If you need faster sync times, check out our Company plan.

20 active flows: You can create as many flows as you want, no matter your plan, but only the first 20 of them will be synced every five minutes. Any other flows need to be manually triggered. Active flows can be scaled up to 80.

Unlimited workflows: You can use the workflow designer to create a workflow, covering the work of yourself and your team. You can create any number of workflows.

Rules: Rules control the flow of information between tools. For instance, you could create a rule that checks for specific assignees if you want to only sync items from those collaborators. If you want to know more about using rules, read our article on the topic.

On-premise tools: The Team plan supports the integration of self-hosted, on-premise installations of Jira, GitHub, and GitLab, as well as cloud services.

Subtasks/checklists: Do you use subtasks to stay organized? With the Team plan, you can sync subtasks. This isn't possible on all integrations, so if you want to make sure it works for yours, ask us!

30-minute onboarding: Everyone needs a little help sometimes. Our onboardings pair you up with a dedicated Customer Success Manager who will help you set up your workflow and customize your flows
Who is this plan for?
This plan is designed for teams that have collaboration on the mind. That can be a development team taking requests from multiple teams or an agency with a few clients, for example.
However, if you need to collaborate across an entire organization, or you work with independent locations around the world, you might be better served by one of our other plans, such as the Company plan. If you're not sure which plan is right for you, please reach out to us. We'll help you figure it out.
How is this plan different from the Company plan?
The Company plan is our next plan up from the Team plan. It's designed for organizations that frequently run cross-functional projects or work with other businesses. It starts at 2000 items in sync and unlimited flows, as well as giving you the ability to build unlimited workflows and sync any number of custom fields.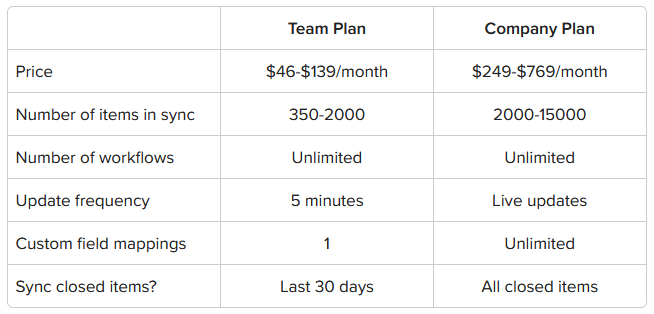 If you have any questions about either of these plans — or you're thinking of changing plans — please get in touch! We'll be happy to help.