Is the Personal plan right for you? Learn about the plan's features, characteristics, and how it compares to the Team plan.
The broad strokes of the Personal plan
The Personal plan isn't as robust as our more expensive plans, but you still get the power of Unito's deep, two-way integrations for the work management tools you're used to. Here's what you get out of the plan:
Starting at $10 a month when billed annually.

100 items in sync: An item in sync is any work item that is kept in sync by Unito as part of a flow. They could be tasks, spreadsheet rows, contacts, tickets, deals, etc.—it depends on the tools you're using. With 100 items in sync, you'll have enough for personal use, but that might not be enough if you want to sync up with other teams. You can find out more about items in sync here.

15-minute sync: Once you've created your workflow we'll check every 15 minutes to see if any changes were made to your items. Then, we'll sync any changes you made during that period. This means you won't instantly see the changes made to an item. If you don't have many items being frequently updated, this can suit your needs. Otherwise, you might need the faster sync times offered by our more comprehensive plans.

10 active flows: While you can create as many flows as you want, no matter your plan, only 10 of them will be automatically synced every 10 minutes. Your other flows will have to be manually triggered.

Rules: Rules let you control the flow of information between your tools. For example, you could create a rule that filters specific labels, so only items with those labels will be included in your flow. This can be useful for filtering items from a handful of collaborators or those that have an upcoming due date. If you want to know more about setting up rules, read our article on the topic.
Who is this plan for?
This plan is best suited for personal use or people leading small teams — like a small dev team — or freelancers looking to give a handful of important clients greater visibility on their work. If you're running on a tight budget, this could be the plan for you.
If you're leading a larger team, or you're often collaborating with other teams, you might be better served by one of our other plans, like the Team plan. If you're not sure if this plan is right for you, you can always reach out to us. We'll help you figure this out.
How is this plan different from the Team plan?
The Team plan is our next plan up from the Personal plan. It's designed for larger teams that need quicker collaboration. It has more items in sync, more active flows, and extra features like 1 custom field mapping, subtask/checklist syncing and closed item syncing.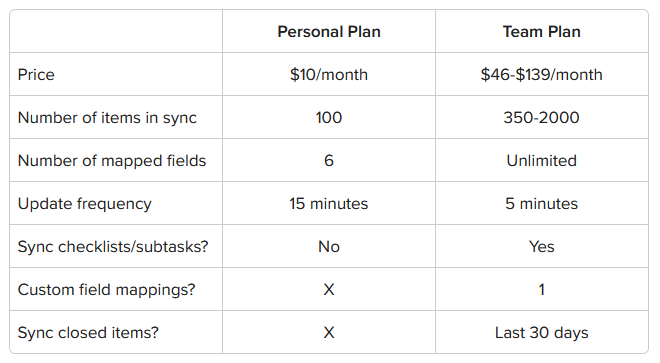 If you have any questions about the differences between these plans — or you're thinking of changing your plan — please get in touch! We'll be happy to help.