How to Build Rules With Issue Type For integrations like Jira and GitHub, Unito is able to use issue type in rules. Here's how to set it up. Hannah Morgan
What this article covers:
Unito's ability to use issue type in rules

How to filter issues by type
We've launched an evolution of our product, so some of the terminology and guidance in this article might be a bit out of date, and we're working hard to update it. You can learn more about our new workflow offering here, brush up on the new terminology here, and find out how to build your first workflow here.
Unito's ability to use issue type in rules
For some connectors like Jira and GitHub you can create rules that filter synced issues depending on their type.
For GitHub, you can choose to sync only Issues, PRs, or both.
For Jira you can choose to sync all issue types or select from among these: Bug, Epic, Improvement, New Feature, Task.
How to build rules with issue type
To use issue type in your rules, go to your flow settings under the Rules tab. If you don't add an issue type rule at all, all issues will be synced, whereas if you select one or several issue types, only the issues with this type will be synced. In this picture, for example, you could choose Bug to only sync issues with the Bug type from Jira to Asana.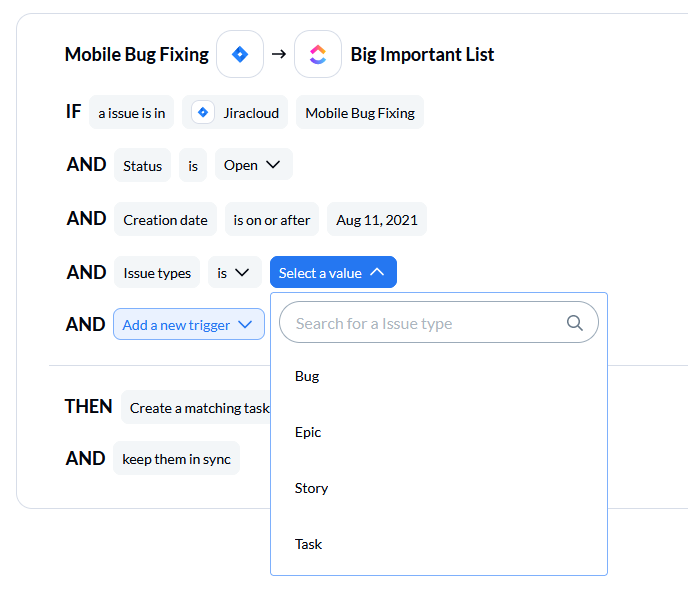 What's next?
Learn how to filter by custom field.
Learn how to sync Jira with GitHub.
Not a Unito user? Try Unito for two weeks free!
Already a user? Sign in here!
Did this answer your question?