Need to connect Bitbucket to your other tools? Here's all you need to know about this integration, including supported fields and options.
Supported fields
Here are the fields you can sync using our Bitbucket integration and which ones you can use in rules.
Most fields can be synced in both directions. That means changes in one tool will be reflected in the other and vice-versa. You can also edit a flow (or a specific field mapping) so that changes only go in one direction.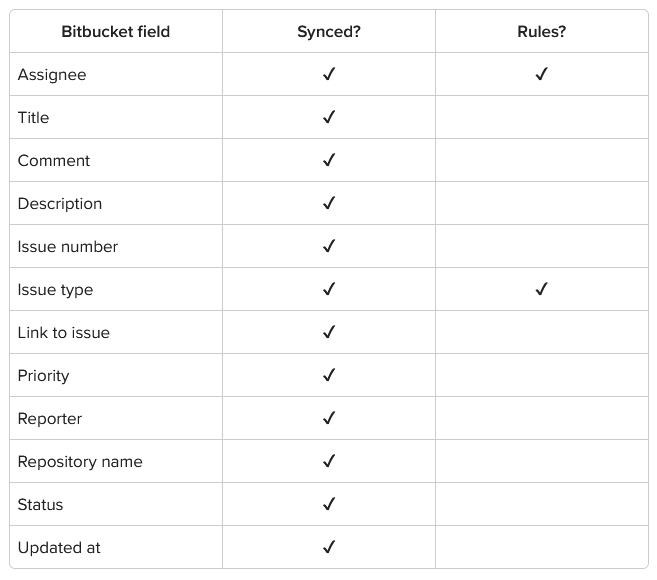 What counts as an item in sync?
For Bitbucket, Unito counts every synced issue as an item in sync.
Customization options
Prefix work item titles with issue number
Issue numbers are great for tracking who's working on what. When you sync Bitbucket issues to other tools, you can have Unito automatically add the issue number as a prefix to the title of a work item in another tool. Say you're syncing Bitbucket issues to Asana, for instance. With this option, your Asana tasks will have the issue number in the title.
Limitations
Pull requests
Syncing Bitbucket pull requests isn't currently supported by this integration.
On-premise Bitbucket instances
Unito doesn't currently support on-premise Bitbucket instances.
Necessary permissions
Your account needs to be part of the organization that owns the repositories you need to sync and you'll need push access. Beyond that, you'll also need the issue tracker enabled on the repository, which is disabled by default.